Friday, September 8, 2000,
Chandigarh, India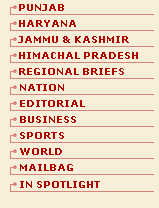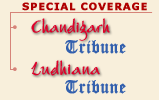 S P O T L I G H T
Five killed in Lahore blast
ISLAMABAD, Sept 7 (PTI) — Five persons were killed and several others wounded in a bomb blast in a crowded market of Lahore today, the police said. The crude bomb, tied to a motor cycle, went off in Dharmapura market at around 5.45 pm (6.15 IST) during heavy rush of shoppers, killing two persons on the spot. Three of the injured died later.
Church sacrileged
BANGALORE, Sept 7 (PTI) — A Catholic church in district headquarters town of Bidar in Karnataka was sacrileged by unidentifed persons, the police said here today. Miscreants broke the glass-panes of a Mother Mary's statue at the Sacred Heart Catholic Church and sprayed "kumkum" (vermilion) on it in the small hours of yesterday. A case had been registered.