Sunday, September 10, 2000,
Chandigarh, India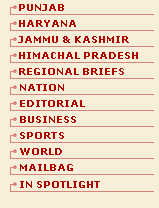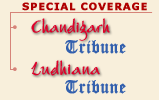 S P O T L I G H T

Iraq mocks UN summit
BAGHDAD, Sept 9 (AFP) — The leading Iraqi daily today mocked the UN's millennium summit saying that no one was listening. "What happened at the millennium summit was like a dialogue between deaf persons where everyone talks and no one listens," said Babel, run by President Saddam Hussein's eldest son Uday. The daily said un secretary-General Kofi Annan's "enthusiasm for holding such a meeting can be explained by his wish to improve his image."

Editor murdered
JAMMU, Sept 9 (PTI) — An editor of local English daily "Dateline" was killed and his wife seriously injured in their house at Sarwal Colony here today by two miscreants, the police said. The miscreants attacked Chander Vijay Awaz and his wife with sharp-edged weapons. While the editor succumbed to his injuries at a hospital, his wife was in critical condition. The accused had been arrested. One of them was identified as Ramachandra Mahapatra from Bihar.

8 LTTE men killed
COLOMBO, Sept 9 (AP) — Government troops killed eight Tamil Tiger rebels during fresh clashes, a government spokesman said today. One policeman was killed yesterday when the guerrillas attacked a police checkpost with a rocket-propelled grenade in Murungan, 205 km north-west of Colombo, government spokesman Ariya Rubasinghe said. Two constables were wounded in the attack.

Highway project
NEW DELHI, Sept 9 (PTI) — The first phase of Prime Minister's ambitious National Highway Development Project, comprising four/six laning of the golden quardilateral connecting four metros of Delhi, Mumbai, Chennai and Calcutta is likely to be completed two years ahead of the scheduled 2005. "The task force on infrastructure had taken a decision to complete the "golden quardilateral" comprising about 6,000 km. However, we expect to complete the project ahead of schedule.