Sunday, September 10, 2000,
Chandigarh, India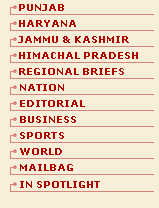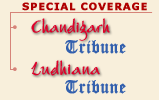 N A T I O N

UK to help India in curbing terrorism
CALCUTTA, Sept 9 — The British Government is ready to join hands with India to flush out terrorist and other militants from the country, the British Secretary of State for Home Affairs, Mr Jack Straw announced at a press conference in Calcutta today.

Amendments in cable Act welcomed
NEW DELHI, Sept 9 — The amendment of the rules forbidding cable networks from showing material for which they do not have the rights has been welcomed by the film industry as a major step in curbing video piracy.

ADS to be built in 7 years: Fernandes
VYPEEN ISLAND (Kochi), Sept 9 — India's Air Defence Ship, a smaller version of an aircraft carrier, will be built at Cochin Shipyard Limited and will take seven years to be constructed after its designing is completed, Defence Minister George Fernandes said today.

Seminar on sexology inaugurated
NEW DELHI, Sept 9 — The National Association of Sexology (India) today stressed the need to introduce sexology as a separate discipline in the curriculum of medical colleges

2 Delhi cops held for gang-killing
NEW DELHI, Sept 9 — The Delhi Police arrested three criminals of the Sensarpal-Rajpal gang active in the national capital, UP and Haryana. Two of them are Delhi policemen.

Nurse killed in hospital
NEW DELHI, Sept 9 — A 22-year-old nurse of Savitri Hospital, Ms Sherly Samuel, was found strangled to death in her room in the hospital's building last night.
'Left Front' behind clashes
September 9, 2000
EC derecognises Lok Shakti
September 8, 2000
SC limits courts' jurisdiction
September 7, 2000
TN to defend ultras' release
September 6, 2000
Jaya served with charge sheet
September 5, 2000
HP to start tele-medicine
September 4, 2000
SP for justice to cane-growers
September 3, 2000
BJP executive before Atal's US visit
September 2, 2000
Good governance my goal: Laxman
September 1, 2000
Karnataka to contest stay on Sept 1
August 31, 2000