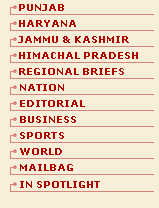 Tuesday, September 12, 2000, Chandigarh, India
Naik hints at petro product price hike
NEW DELHI, Sept 11 — The prices of petroleum products will be hiked after Prime Minister Atal Behari Vajpayee's return from the USA even as India expressed disappointment over OPEC's decision to increase crude production by eight lakh barrels per day, to curb shooting international prices.
Futuristic mood at UN
Permanent seat: India's chances bright
From Hari Jaisingh
NEW YORK, Sept 11 — There is good news. The UN is not going to die yet, as is often feared. This is clear from the enthusiasm for the just concluded three-day UN Millennium Summit. Almost all the world leaders were there — over 150 of them, including 100 presidents or other Heads of State, 47 government leaders, princes and a few vice-presidents.
CAST YOUR VOTE
Would UN Summit declarations help India fight terrorism sponsored from across the border?