THE TRIBUNE MAGAZINES
On Mondays


On Sundays

On Saturdays

US Diary
PM: bipartisan approach must
Washington, Sept 14 — During the 22-minute address to the U S Congress, Mr Vajpayee spoke in measured tone. The sentences were simple and short for making an impact. He laid great emphasis on the bipartisan approach for "infusing a new quality in Indo-US ties."

Gates sees India as IT 'superpower'
NEW DELHI, Sept 14 — Software czar, Chairman and chief software architect of Microsoft Corporation, Mr William H. Gates, sees India as an information technology "superpower" where every state, including Punjab and Haryana, is a major market.
Naidu meets Advani on West Bengal
NEW DELHI, Sept 14 — Andhra Pradesh Chief Minister N. Chandrababu Naidu today discussed the West Bengal situation with Home Minister L.K. Advani.
IN PASSING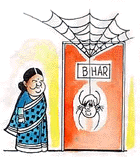 Bill Gates ji suggested putting Bihar on web!
by Sandeep Joshi
Jolt to Cong in Sunam bypoll
CPI rejects plea on common candidate
SUNAM, Sept 14 — The Punjab Congress today suffered a setback as the talks between the Congress and the Communist Party of India (CPI) regarding a common candidate for the Sunam Assembly byelection failed, with Dr Joginder Dayal, Secretary of the Punjab unit of the CPI, refusing to oblige the Congress leadership by withdrawing his party's candidate from the contest in favour of the Congress candidate, Mrs Parmeswari Devi.



Harpreet case: CBI probe begins
JALANDHAR, Sept 14 — The CBI authorities have finally initiated the preliminary investigation into the mystery surrounding the death of Harpreet Kaur, daughter of the Shiromani Gurdwara Parbandhak Committee chief, Bibi Jagir Kaur. The probe will also explore whether there was any evidence on the basis of which they could register a case.
The Tribune's exclusive original story (archived):
Harpreet's death due to family tension?
Pak deploys reserve brigade near LoC
JAMMU, Sept 14 — Pakistan is said to have moved one reserve brigade from the general headquarters (GHQ) in Rawalpindi close to the Line of Control across Uri, Tangdhar and Chhamb.
EARLIER STORIES
(links opens in a new window)
Vajpayee woos US investors
September 14, 2000
PM's yatra not Pak-centric
September 13, 2000
Naik hints at petro product price hike
September 12, 2000
'India Day' in New York
September 11, 2000
Summit pledges to fight terrorism
September 10, 2000
PM exposes Pak doublespeak
September 9, 2000
Paddy purchase from Sept 21
September 8, 2000
Telecom strike hits services
September 7, 2000
Minor daughters of officials molested
September 6, 2000
Indo-UK pact on terrorism
September 5, 2000