Sunday, September 17, 2000,
Chandigarh, India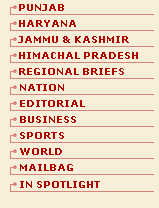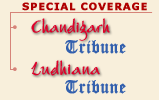 S P O R T S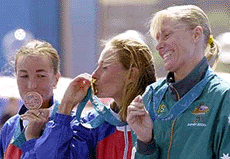 Women's triathlon winner Brigitte McMahon of Switzerland, centre, kisses her Olympic gold medal following her victory on Saturday, in Sydney, Australia. — AP/PTI photo



Thorpe gives Aussies dream start
SYDNEY, Sept 16 — Australian swim sensation Ian Thorpe bagged two gold medals as the biggest Olympic Games in history exploded into action today with nine world records and Aussie swimmers stealing a march on arch rivals the USA.
Mutlu claims gold, sets new records
SYDNEY, Sept 16 — Mighty mite Halil Mutlu of Turkey claimed his second consecutive Olympic weightlifting gold medal in world record fashion today. Mutlu, nicknamed the "Little Dynamo", lived up to his raging favouritism by outclassing his opponents with a peerless performance in front of hundreds of flag-waving Turkish supporters.
McMahon spoils Aussie party
SYDNEY, Sept 16 — Switzerland's Brigitte McMahon spoiled the opening day party for Australia by stealing an historic first triathlon Olympic gold from under the hosts' noses in Sydney today.
Canada hold Pakistan
SYDNEY, Sept 16 — Unheralded Canada sounded a warning to their rivals in the Olympic men's hockey by holding former champions Pakistan to a 2-2 draw here today.

US track star Maurice Green hugs India's 4x400-meter relay runner Rosa Kutty during a training session at the Homebush Olympic training track in Sydney on Saturday. — AP/PTI photo
India's campaign begins today
September 16, 2000
Stage set for Sydney extravaganza
September 15, 2000
India score narrow 2-1 win
September 14, 2000
Italy start favourites against Aussies
September 13, 2000
Safin stuns Sampras for US Open title
September 12, 2000
Venus captures crown in US Open
September 11, 2000
Davenport, Venus in title clash
September 10, 2000
Weary Todd Martin reaches semis
September 9, 2000
Davenport ends poor run against Serena
September 8, 2000
Kiefer ousts Norman; Safin wins
September 7, 2000
Sampras, Krajicek, Moya move up
September 6, 2000