Sunday, September 17, 2000,
Chandigarh, India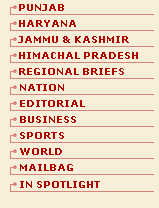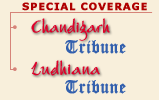 S P O T L I G H T
Arrest warrant against minister
NAWADA (Bihar), Sept 16 (PTI) — A court here has issued non-bailable arrest warrant against Bihar Minister of State for Animal Husbandry Department, Aditya Singh in connection with the killing of a youth. The Sub-Divisional Judicial Magistrate Nawada, Mr Shiv Sharan Mishra has asked the Nawada police to execute the arrest warrant against the minister and produce him before the court by November 7.
Laloo's demand
DALTONGUNJ (Bihar), Sept 16 (PTI) — Rashtriya Janata Dal (RJD) supremo Laloo Prasad Yadav today said Article 356 of the Constitution was a tool to throttle democracy and demanded the scrapping of the article. "Article 356 is such a dangerous provision that it can throttle democracy. It is a tool to make democratically-elected governments in the states its victim, Mr Yadav told reporters after attending a public meeting organised here to provide compensation to the dependents of people who had lost their lives in recent Palamu electrocution incident and Lotto massacre.
Chhota Rajan's 'death'
MUMBAI, Sept 16 (UNI) — Interpol has been alerted to gather more details regarding the attack on fugitive underworld don Chhota Rajan alias Rajan Nikhalje, who was reportedly killed in a shootout with the rival Dawood Ibrahim gang last evening in Bangkok. Mumbai police has not yet officially confirmed the death of Rajan, one of the most wanted criminals on their list, but, "we presume that Rajan died in the shootout,'' a senior police official said here.
5 killed in landslip
KATHMANDU, Sept 16 (AFP) — A massive landslide triggered by incessant rains over the past few days buried alive five members of two families in a far western village a home ministry official said today. The landslide hit Shyangdi village in Bhajang district, 398 kms west of the capital, yesterday morning.