23 ultras killed in J&K
6 Pak soldiers killed
SRINAGAR, Sept 18 — Twenty three militants were among 28 persons killed in Jammu and Kashmir even as militants stepped up attacks on security personnel in the valley, official sources said today.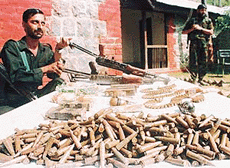 A Special Operations Group man of the Jammu and Kashmir police displays arms and ammunition found in a paddy field which allegedly belongs to separatist militants at Ganderbal, 22 km east of Srinagar on Monday. — Reuters photo

Amritsar Mayor's effigy burnt
AMRITSAR, Sept 18 — An effigy of Mr Subhash Sharma, Mayor of the municipal corporation, who was expelled from the BJP for six years, was burnt in front of Hall Bazar by hundreds of workers belonging to the CPM.
THE TRIBUNE MAGAZINES
On Mondays


On Sundays

On Saturdays

Dawood's arms seized, smuggler held
KAPURTHALA, Sept 18 — The Kapurthala police has arrested a member of the international gang of narco-terrorists. On his disclosure to the police, 21 mausers (30 calibre), 41 magazines and 148 cartridges and 500 grams of opium were found from a place disclosed by him.
DCC chief booked on SDM's FIR
AMRITSAR, Sept 18 — On the basis of a complaint lodged by Mr Harcharan Singh Sandhu, SDM, Ajnala, the Rajasansi police has registered a case against Mr Sukhbinder Singh, alias Sukh Sarkaria, president of the District Congress Committee (Rural), and three others for allegedly interfering in government duty, snatching ballot papers, damaging official records, misbehaving and illegally detaining government employees.



DGP Rathore writes to CBI chief
Alleges factionalism among cops
GURGAON, Sept 18 — The rivalry and internecine struggle in the top echelons of Haryana police, including present and former Director-Generals and a number of senior IPS officers from the state and Punjab, has been, for the first time put on record by the incumbent Director-General of Police of Haryana, Mr S.P.S. Rathore to the Central Bureau of Investigation.
EARLIER STORIES
(links opens in a new window)
India acquiring new role in S. Asia: PM
September 18, 2000
USA, India vow to fight terrorism
September 17, 2000
Millennium Olympics off to spectacular start
September 16, 2000
Join hands to end terrorism
September 15, 2000
Vajpayee woos US investors
September 14, 2000
PM's yatra not Pak-centric
September 13, 2000
Naik hints at petro product price hike
September 12, 2000
'India Day' in New York
September 11, 2000
Summit pledges to fight terrorism
September 10, 2000