Khursheed axed, Jaiswal steps in as UPCC chief
NEW DELHI, Sept 19 — In a major move to strengthen the organisation in UP, Congress President Sonia Gandhi today appointed Mr Sri Prakash Jaiswal, Lok Sabha member from Kanpur, as the new UPCC President in place of Mr Salman Khursheed.
Support to BJP 'not absolute'
BANGALORE, Sept 19 — The VHP support to the BJP is ''not absolute but only conditional'' and it will take a decision on the issue only at the time of elections, VHP General Secretary Pravin Bhai Togadia said today.
THE TRIBUNE MAGAZINES
On Mondays


On Sundays

On Saturdays

IN PASSING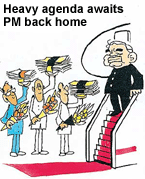 by Sandeep Joshi
19 killed, 70 hurt in Pak bomb blast
ISLAMABAD, Sept 19 — A powerful bomb blast rocked the Pakistani capital Islamabad, killing 19 persons and injuring over 70 others in a crowded vegetable market this morning, doctors and witnesses said.
'Sarbat Khalsa' to be convened
AMRITSAR, Sept 19 — In a significant move, Bhai Ranjit Singh, a former Jathedar Akal Takht, has announced that he would convene a "Sarbat Khalsa" to claim the post of Jathedar with the support of the "sangat" in the near future.
SGPC cash register sealed
AMRITSAR, Sept 19 — Mr Balbir Singh Pannu, Senior Vice-President, SGPC, today sealed the office, cash register and chest of the cashier of the SGPC following allegations of "pilferage" of cash to the tune of Rs 2 lakh.
PAU seeds selling in open market
LUDHIANA, Sept 19 — A number of seed varieties developed by scientists of Punjab Agricultural University here, are allegedly finding clandestine way into open market. And not surprisingly, the same are not made available to farmers in the university.
Home Secy's father-in-law held
Gujral alleges fraud in marriage
LUDHIANA, Sept 19 — Barely a fortnight after his marriage, the Home Secretary, Union Territory of Chandigarh, Mr Ramindar Singh Gujral, has accused his bride of polyandry, fraud and criminal conspiracy with her father and a former husband.
EARLIER STORIES
(links opens in a new window)
PM's no to curbs under CTBT
September 19, 2000
India acquiring new role in S. Asia: PM
September 18, 2000
USA, India vow to fight terrorism
September 17, 2000
Millennium Olympics off to spectacular start
September 16, 2000
Join hands to end terrorism
September 15, 2000
Vajpayee woos US investors
September 14, 2000
PM's yatra not Pak-centric
September 13, 2000
Naik hints at petro product price hike
September 12, 2000
'India Day' in New York
September 11, 2000