Thursday, September 21, 2000,
Chandigarh, India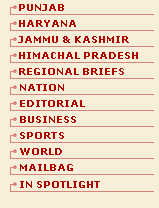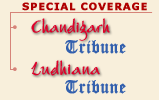 S P O T L I G H T
Pondicherry TMC splits
PONDICHERRY, Sept 20 (UNI) — In a sudden development, the Tamil Maanila Congress, a partner in the ruling Congress-led coalition in the union territory of Pondicherry, split today with three of the seven MLAs forming a new group and party territorial unit president and PWD Minister P. Kannan resigning his party post. This, however, would not pose any threat to the stability of the P. Shanmugham Ministry as the official and splinter groups continued to support it. The three MLAs led by Mr Rathinam wrote to the Speaker after a meeting that they be recognised as a separate group, namely TMC (Rathinam) in the Assembly.
Atlantis returns
CAPE CANAVERAL (Florida), Sept 20 (AP) — Space shuttle Atlantis and its crew returned in the pre-dawn darkness today, capping a successful mission to the international space station. "We've had a really great flight this time," flight director Wayne Hale said. The landing was right on time at 3:56 am (7:56 am gmt), just as the launch was on September 8.