Thursday, September 21, 2000,
Chandigarh, India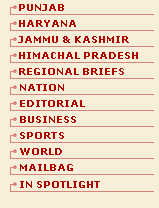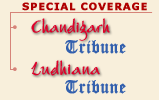 S P O R T S
Paes-Bhupathi duo starts with win
Paes beaten in singles
SYDNEY, Sept 20 — Former world number one pair of Leander Paes and Mahesh Bhupathi showed their class as they pulverised the Romanian pair of Andrei Pavel and Gabriel Trifu 6-3, 6-4 to begin their Olympic tennis doubles campaign in style.



US swimmers (L to R) Samantha Arsenault, Diana Munz, Lindsay Benko and Jenny Thompson show the gold medals they won in the 4x200m freestyle relay race at the Olympic Games on Wednesday. — Reuters photo


Popov, O'Neill dethroned
SYDNEY, Sept 20 — Pieter Van den Hoogenband ended Alexander Popov's reign as king of the Olympic 100m freestyle today, following up his world record-setting semi finals with a triumph in the final.


Hoogenband rules the pool; Safin upset
SYDNEY, Sept 20 — Dutchman Pieter van den Hoogenband asserted himself as the new king of the pool today as he took gold in a race billed as the greatest men's 100m freestyle of them all.
Banned Romanians refuse to leave
SYDNEY, Sep 20 —Two Romanian weightlifters who were thrown out of the Olympics for doping have refused to go home and plan to launch a legal battle to allow them to stay in Australia, a report said today
Greene promises unforgettable performance
SYDNEY, Sept 20 — He is big, he is brash and he is ready to "let it hang real fast." Maurice Greene is already the world's fastest man, but he strutted his stuff confidently here today predicting he could run faster than his own 9.79sec world record in the 100 metres promising "a performance you will never forget."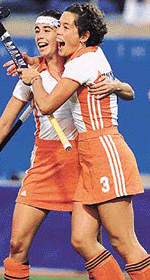 Netherland's Macha van der Vaart (3) celebrates with a team-mate after winning against New Zealand 4-3 on Wednesday. — Reuters photo