THE TRIBUNE MAGAZINES
On Mondays


On Sundays

On Saturdays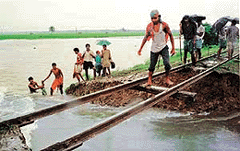 Villagers try to cross a damaged rail track over flood waters in the West Bengal town of Shantipur, 150 km northeast of Calcutta, on Wednesday. — Reuters photo
(Report on Nation page)

Indian troops to leave S. Leone
UNITED NATIONS, Sept 21 — In a surprise move, India has announced that it plans to withdraw its entire 3,000-strong contingent from the 13,000-member UN peacekeeping force in Sierra Leone.
Rao-Virbhadra row hots up
SHIMLA, Sept 21 — The organisational election process of the Congress has taken an ugly turn in Himachal Pradesh. The chairman of the pradesh election authority, Mr Hanumantha Rao, has made some objectionable remarks against the CLP leader, Mr Virbhadra Singh, and the latter accusing him of having become a representative of those who were rigging the elections.
IN PASSING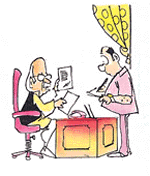 "Take firm steps to check violence and restore people's confidence." Send original to Mamataji and a copy to Basu.
by Sandeep Joshi
UT Home Secy case
Is Manpreet being victimised?
LUDHIANA, Sept 21 — Is the bride of the UT Home Secretary Raminder Singh Gujral being victimised at the behest of her husband who wanted to get rid of her? Is she more sinned against than sinning?

Expelled Mayor meets party chief
Seeks time to prove innocence
AMRITSAR, Sept 21 — In a surprise move, Mr Subash Sharma, Mayor, Municipal Corporation, who was expelled from the BJP for six years following charges of "more turpitude" today held a meeting with state party President Brij Lal Rinwa at Chandigarh today.
EARLIER STORIES
(links open in a new window)
10 Pak troops killed
September 21, 2000
Floods play havoc in West Bengal
September 20, 2000
PM's no to curbs under CTBT
September 19, 2000
India acquiring new role in S. Asia: PM
September 18, 2000
USA, India vow to fight terrorism
September 17, 2000
Millennium Olympics off to spectacular start
September 16, 2000
Join hands to end terrorism
September 15, 2000
Vajpayee woos US investors
September 14, 2000
PM's yatra not Pak-centric
September 13, 2000
Naik hints at petro product price hike
September 12, 2000