Saturday, September 23, 2000,
Chandigarh, India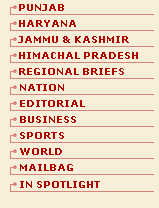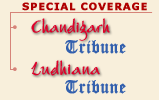 M A I N N E W S
Riots panel for CBI probe
H.K.L. Bhagat's discharge
Tribune News Service
NEW DELHI, Sept 22—Pained by the discharge of former Union Minister , Mr H.K.L.Bhagat in one of the riot cases investigated by the Delhi Police recently, the November,1984,Carnage Justice Committee has urged the Lt Governor of Delhi, Mr Vijai Kapoor, to order "further investigation" of the case by an independent agency like the CBI.
"We are indeed pained to know about the discharge of Mr Bhagat in one of the riot cases investigated by the Delhi Police. Mr Bhagat has been discharged ,while his other five co-accused—Har Prashad, Ram Parshad Tiwari, Jagdish Giri, Suraj Giri and Mrs Kailash— have been sent for trial against whom the Magistrate has taken cognizance and has summoned them," the Committee said in a three-page memorandum to Mr Kapoor.
The memorandum signed by Senior Advocate and senior member of the Committee H.S. Phoolka pointed out that "the police has accepted the alibi of Mr Bhagat, which otherwise is primarily within the exclusive domain of the court trying the accused to judicially appreciate the evidence of alibi during the course of trial when the accused is afforded opportunity to produce his evidence."
Drawing attention to Section 106 of the Evidence Act, Mr Phoolka pointed out that assuming that, in the opinion of the Investigating Officer (IO)concerned, the evidence was "not sufficient", which was allegedly coming from a tainted or interested source, it still does not "justify the opinion of the IO to send a final report under Section 169 of the Cr.PC in as much as the complainant ought to have been informed by the IO about the end result of the investigation, which is a statutory duty cast upon him under Section 173 (2) (ii) of the CrPC."
"This provision of law provides a safeguard to the complainant/aggrieved party to challenge the findings of the investigating agency, to file a protest petition, to adduce further evidence or to even file a complaint," he said.
"It is equally intriguing that no effort has apparently been made by the Metropolitan Magistrate, before accepting the final report filed by the Delhi Police, to satisfy himself whether the complainant has been informed about the finding of the IO in terms of the provisions of Section 173 (2) (ii) of the CrPC," he said.
"All consistent efforts to secure justice to the unfortunate victims of the 1984 riots appears to be eluding at every stage, notwithstanding that the rulers of that era are not occupying the seat of power," the memorandum said. It alleged that "the Delhi Police has made hapless victim as the accused and has let off Mr Bhagat, who is the real culprit by giving a go by to the established principles of the Criminal Procedure Code to be followed during investigations."