THE TRIBUNE MAGAZINES
On Mondays


On Sundays

On Saturdays

Sensex crashes by 225 points
MUMBAI, Sept 22 — Stocks nosedived bringing the sensex down by a whopping 225 points today to close at a 4-month low on the Bombay Stock Exchange (BSE) on fresh bout of selling triggered by the government's hints on domestic oil price hike.
Panel to probe telecom crisis
NEW DELHI, Sept 22—The Communication Ministry has set up a special committee to look into the various causes that led to disruption in the telecom services in the
Amritsar Mayor resigns
AMRITSAR, Sept 22 — Mr Subash Sharma, Mayor, Municipal Corporation, today tendered his resignation, after being embroiled in an alleged sex scandal.
(Edit: Aaj ka Mayor)
Riots panel for CBI probe
H.K.L. Bhagat's discharge
NEW DELHI, Sept 22—Pained by the discharge of former Union Minister , Mr H.K.L.Bhagat in one of the riot cases investigated by the Delhi Police recently, the November,1984,Carnage Justice Committee has urged the Lt Governor of Delhi, Mr Vijai Kapoor, to order "further investigation" of the case by an independent agency like the CBI.
IN PASSING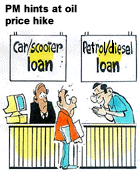 May I help you, Sir!
by Sandeep Joshi
MLA's kin in Rs 1-cr scam
PWD orders inquiry
PATIALA, Sept 22 — The Punjab Public Works Department has ordered an inquiry into the misappropriation of about Rs 1 crore meant for the Rural Works Division, Sirhind, by an Executive Engineer related to a Shiromani Akali Dal legislator.
Robbers strike again, kill three
MALOUT, Sept 22 — Karnail Singh, his son Rupinderman Singh and their neighbourer Manjit Kaur were murdered late last night by persons suspected to be members of the "kale kachhewala" gang in a locality situated behind the local bus stand.
Barnala faction to back SHSAD
BARNALA, Sept 22 — The Shiromani Akali Dal today suffered a major setback and the Sarb Hind Shiromani Akali Dal got a shot in the arm when the Surjit Singh Barnala faction announced its support for the SHSAD. It also decided to oppose the SAD candidate, Mr Parminder Singh Dhindsa, vehemently in the Sunam Assembly byelection to be held on September 29.
EARLIER STORIES
(links open in a new window)
Advani drubs West Bengal on violence
September 22, 2000
10 Pak troops killed
September 21, 2000
Floods play havoc in West Bengal
September 20, 2000
PM's no to curbs under CTBT
September 19, 2000
India acquiring new role in S. Asia: PM
September 18, 2000
USA, India vow to fight terrorism
September 17, 2000
Millennium Olympics off to spectacular start
September 16, 2000
Join hands to end terrorism
September 15, 2000
Vajpayee woos US investors
September 14, 2000