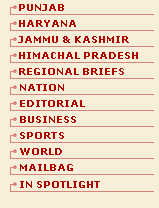 Sunday, September 24, 2000, Chandigarh, India
Oil price hike in next 48 hours
Govt to reduce custom, excise duties
NEW DELHI, Sept 23 — The government today adopted a cautious approach in going ahead with the imminent hike in the prices of oil and petroleum products with the Petroleum Minister, Mr Ram Naik, utilising the day to convince the Union Cabinet and the National Democratic Alliance about the urgency of the measure.
USA to release oil from reserve
WASHINGTON, Sept 23 — US President Bill Clinton ordered the release of 30 million barrels of oil from the nation's emergency reserves to head off shortages as crude prices soar.
CAST YOUR VOTE
Will Bill Gates' visit have a significant impact on India's IT sector?