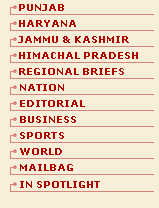 Monday, September 25, 2000, Chandigarh, India
States asked to share oil price burden
Consumer to bear only 33 pc of hike
NEW DELHI, Sept 24 — gripped by a crisis to manage the whopping oil pool deficit of Rs 23,600 crore in the face of surging international crude prices, the centre today appealed to the states to mitigate the burden of hike in petro-product prices on consumers by slashing sales tax by 5 per cent.
CM meets Barnala in vain
BARNALA, Sept 24 — The meeting of Mr Parkash Singh Badal, Chief Minister, Mr Sukhdev Singh Dhindsa, Union Sports Minister, and Mr Tota Singh, Punjab Education Minister, with Mr Surjit Singh Barnala, at the latter's residence here today proved unsuccessful.
CAST YOUR VOTE
Was Prime Minister Vajpayee's visit to the USA a major breakthrough in Indo-American relations?