Tuesday, September 26, 2000,
Chandigarh, India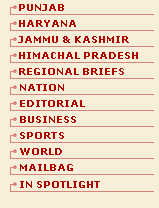 C A L E N D A R
Tuesday, September 26, 2000
Vikrama Samvat
2057
Ashvina
11
Shaka Samvat
1922
Ashvina
4
Hijri
1421
Jamadi-ussani
27
Ashvina Krishna Paksha Chaturdashi up to 3.30 a.m. (September, 27)
The fourteenth lunar day of the dark half of Ashvina.
Poorvaphalguni Nakshatra up to 11.25 p.m.
he sun enters Hasta at 9.00 p.m.
Pluto enters Jyeshtha at 3.30 a.m. (September, 27).
Chaturdashi Shraddha including ancestors dead due to poison, fire and weaponry assault.