Tuesday, September 26, 2000,
Chandigarh, India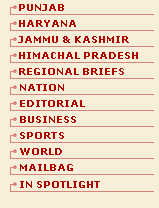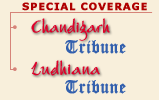 S P O T L I G H T
6 undertrials shot dead
HARDWAR, Sept 25 (UNI) — Unidentified gunmen shot six criminals being taken to the court under police custody in Deoband town this morning. The police said around 30 persons detained under the Gangster Act were being taken to the court in Meerut in a police van when some armed men, hiding near the bridge on the Saakan river, stopped the vehicle and opened indiscriminate fire, killing six of them on the spot.
Trains cancelled
NEW DELHI, Sept 25 (PTI) — The Northern Railway (NR) has cancelled the 3050 Amritsar-Howrah Express and 3008 Udhyanabha Toofan Express scheduled to leave Amritsar and Sriganganagar respectively, today. It was necessitated due to cancellation of the link rake of these trains on account of breaches in Eastern Railway, an NR statement said here.
24 Tigers killed
COLOMBO, Sept 25 (PTI) — Twentyfour LTTE rebels and a civilian were killed in sporadic fighting between the Sri Lankan army and the Tigers in the North and East, while naval troops seized two suspected rebel supply boats and arrested four persons.