Wednesday, September 27, 2000,
Chandigarh, India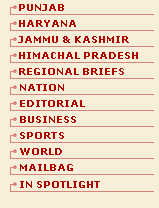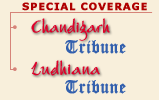 Paddy purchase: farmers suffer losses
FAZILKA, Sept 26 — Rice millers and two government agencies purchased 1,08,700 quintal paddy from Fazilka grain market on Monday. Surprisingly, out of this purchase 90,000 quintal have been purchased by rice millers whereas a token purchase of about 20,000 quintal have been made by Punsup and Markfed while FCI, the third agency to which also the area has been allocated for procurement, is yet to commence its job.
6 villages ready for acquisition for Anandgarh
TIRA (Kharar), Sept 26 — Almost 2,500 acre of land of six villages presently housing a population of 4,000 is to be acquired in the first phase of construction of Anandgarh, informed sources at the New Town Planning and Development Authority, Anandgarh, here today.
Plea against SAD MLA rejected
NEW DELHI, Sept 26 — The Supreme Court while dismissing an appeal against the election of Mr Jameja Singh to the Punjab Legislative Assembly in 1997 from the Ferozepur Cantonment constituency.
SAD has fixed EVMs: Cong
NEW DELHI, Sept 26 — A Punjab Pradesh Congress Committee (PPCC) delegation today met the Election Commissioner, Mr J M. Lyngdoh, here and demanded that the Punjab Chief Minister, Mr Parkash Singh Badal, and his ministers should be debarred from entering the Sunam Assembly constituency after the campaign ends tomorrow evening alleging "misuse of government machinery."
Teachers' mass casual leave on Oct 18
LUDHIANA, Sept 26 — The teachers of Punjab and Chandigarh will go on mass casual leave on October 18 and hold a rally in front of the office of Director Public Instructions.
Plea rejected after 17 yrs
AMRITSAR, Sept 26 — After 17 years a plea of a head draftsman was rejected by the Irrigation Department of the Punjab Government.
Farmers wait for purchase agencies
September 26, 2000
Officials pulled up for flouting rules
September 25, 2000
Barnala men begin campaign
September 24, 2000
Where diesel stands between life & death
September 23, 2000
Barnala to consult supporters
September 22, 2000
8 killed, 14 injured in mishap
September 21, 2000
Yadav for one-time road tax payment
September 20, 2000
CM sure of victory in Sunam by-election
September 19, 2000
PUDA policy on land for hospitals
September 18, 2000
Ex-PMs refuse to campaign in Sunam
September 17, 2000
Amarinder, Bhattal campaign jointly
September 16, 2000