Wednesday, September 27, 2000,
Chandigarh, India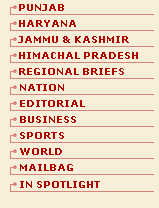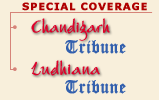 S P O T L I G H T
Custodial death: notice to UP Govt
NEW DELHI, Sept 26 (UNI) — The National Human Rights Commission (NHRC) today issued a show-cause notice to the Uttar Pradesh Government, asking it why an amount of Rs 2 lakh should not be granted as immediate interim relief to the next of kin of Vijay Kumar Ekka, an eyewitness to the murder of a Catholic cleric in Mathura, who died in police custody under mysterious circumstances.
30 combatants killed
COLOMBO, Sept 26 (UNI) — At least 30 combatants were killed when the Sri Lankan forces launched a fresh offensive in the Jaffna peninsula this morning to recapture lost territories.
Tension in Hayatnagar
MORADABAD (UP) Sept 26 (PTI) — Tension gripped Hayatnagar area in Sambhal following a clash between two communities last night, resulting in the death of a woman.
Indian tourists killed
SWITZERLAND, Sept 26 (DPA) — Two helicopters, carrying Indian tourists on a sightseeing tour of the Swiss Alpine mountains, crashed in Switzerland today as they prepared to land, killing eight persons and seriously injuring three others. The police said the two Air Glacier helicopters crashed over a football field in the Val Nendaz valley near Sions. Four bodies have been found so far.