Thursday, September 28, 2000,
Chandigarh, India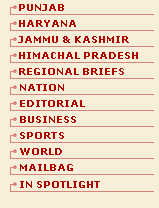 C A L E N D A R
Thursday, September 28, 2000
Vikrama Samvat
2057
Ashvina
13
Shaka Samvat
1922
Ashvina
6
Hijri
1421
Jamadi-ussani
29

Ashvina Shukla Paksha Pratipada up to 11.41 p.m.
The first lunar day of the bright half of Ashvina.
Hasta Nakashatra up to 10.25 p.m.
Mars enters Poorvaphalguni at 4.00 p.m.
Sharad Navaratra begins.
Agrasen Jayanti.
Maternal grand father's Shraddha Divas.
Chumunda Devi fair at Kangra (HP).