Thursday, September 28, 2000,
Chandigarh, India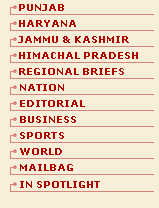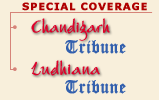 S P O T L I G H T
Muslims kill 32 Christians
JAKARTA, Sept 27 (AFP) — At least 32 Christians were killed in a day-long attack by Muslims on an outlying village in Ambon, the capital of Indonesia's restive Maluku islands, a church worker said today. The Muslim attackers were aided by government soldiers during the attack on the village of Hatiwe Besar yesterday said Noya Fileopistos of the Christian coordinating post at the Maranatha church in Ambon.
Quake in J&K
NEW DELHI, Sept 27 (TNS) — An earthquake of "slight" intensity rocked the Himalayan state of Jammu and Kashmir in the early hours today, a preliminary report by the India Meteorological Department (IMD) here said. There was no immediate reports of casualty. The quake measuring four on the Richter scale, occurred at 1.09 a.m.
Vij new GOC-in-C of Southern Command
NEW DELHI, Sept 27 (UNI) — Lt Gen Nirmal Chandra Vij, Director General Military Operations (DGMO) at Army Headquarters, has been appointed the new General Officer Commanding in Chief (GOC-in-C) Southern Command, in place of Lt Gen Padmanabhan who will take over as the new Chief of Army Staff on October one. Lt Gen P.S. Soshi, Commandant, College of Combat, Mhow, has been posted as GOC-in-C, Central Command at Lucknow.