Saturday, September 30, 2000,
Chandigarh, India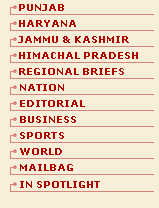 C A L E N D A R
Saturday, September 30, 2000
Vikrama Samvat
2057
Ashvina
15
Shaka Samvat
1922
Ashvina
8
Hijri
1421
Rajab
1
Ashvina Shukla Paksha Triteeya up to 10.00 p.m.
The third lunar day of the bright half of Ashvina.
Swati Nakshatra up to 10.6 p.m.
Jupiter turns retrograde at 4.55 p.m.
Sarvartha-Siddhi Yoga upto 10.6 p.m.
Khwaja Chishte's Urs fair begins at Ajmer (Rajasthan).
Third Navaratra.