Saturday, September 30, 2000,
Chandigarh, India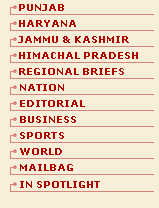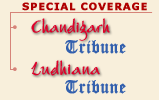 BKU blocks rail, road traffic
RAMPURA PHUL, Sept 29 Traffic on the Bathinda-Barnala road and train movement on the Bathinda-Ambala section was blocked by activists of the BKU here today in protest against the slow procurement of paddy of the farmers by the government agencies.
Ropar plant: Unit IV breaks down again
CHANDIGARH, Sept 29 — Unit IV of the Ropar Super Thermal Plant has again got bogged down.
Eye doctor told to pay Rs 2 lakh
BATHINDA, Sept 29 — The District Consumer Dispute Redressal Forum has directed Dr Ghansham Garg, an eye specialist running Narmata hopital to pay Rs 2 lakh as compensation to Mr Niranjan Singh Dhillon for causing the loss of sight of his right eye allegedly due to deficiency of services on the part of him (Dr Garg).
Rly GM told to conduct probe
ABOHAR, Sept 29 — The General Manager (Operations), Northern Railway, has been directed by the Baroda House headquarters to conduct an inquiry into complaints regarding corruption and mismanagement at the railway station here.
BSF, Rangers locked in slogan war
HUSSAINIWALA (Ferozepore), Sept 29 — Border Security Force soldiers and their Pakistani counterparts are virtually locked in a slogan war with the paramilitary personnel on either side of the border encouraging civilians to raise slogans glorifying their respective countries at the Hussainiwala Post.
Release 200 cr grant to PSEB: Vasant
September 29, 2000
Show of strength by SAD, Congress
September 28, 2000
Paddy purchase: farmers suffer losses
September 27, 2000
Farmers wait for purchase agencies
September 26, 2000
Officials pulled up for flouting rules
September 25, 2000
Barnala men begin campaign
September 24, 2000
Where diesel stands between life & death
September 23, 2000
Barnala to consult supporters
September 22, 2000
8 killed, 14 injured in mishap
September 21, 2000