Monday, October 2, 2000,
Chandigarh, India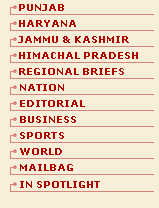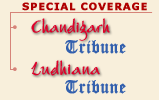 H A R Y A N A
Staff hand in prisoner's escape?
MAHENDERGARH, Oct 1— The police authorities and the administration still in the dark with regard to the whereabouts of the dreaded 14 undertrials even about 80 hours after their escape from the district jail.
A jail bursting at its seams
AMBALA, Oct 1 — Small but significant changes are gradually taking place in the Central Jail here. A yoga camp was recently organised on the jail premises for the benefit of the prisoners.
Minister's kin takes on BKU
FATEHABAD, Oct 1 — The FIR lodged against Bhartiya Kisan Union activists here by a nephew of Mr Ranjit Singh Brahmpura, Cooperation Minister, sparked widespread protests in this town, with BKU workers threatening to launch a statewide agitation unless the "fabricated cases" registered against its activists were withdraw.
Coop societies: CM orders probe
JIND, Oct 1 — Presiding over a meeting of the District Grievances Committee here today, Mr Om Prakash Chautala, Chief Minister, Haryana, said the Haryana Government had received complaints regarding irregularities in the advancing of loans to people by cooperative societies. He directed the district authorities to conduct an inquiry into the matter and submit a report at the next meeting of the committee.
A shrine of universal love
PANIPAT: Even today the shrine of Bu Ali Shah Kalandar in this town draws people of all faiths to seek the fulfillment of their wishes.
Paswan: JD has lost its entity
HISAR, Oct 1 — The Communication Minister, Mr Ram Vilas Paswan, today alleged that the Janata Dal ship had "sunk" and that it was no longer political entity.
Jail break leaves cops red-faced
October 1, 2000
Upper age limit for HCS (Executive) up
September 30, 2000
7 aspiring crorepatis held
September 29, 2000
Public service byelaws put into
cold storage
September 28, 2000
Task force mooted to check interstate crime
September 27, 2000
Fatehabad MC chief in soup
September 26, 2000
Staff resent govt move on khadi board offices
September 25, 2000
Sonepat prepares for Tau's birthday
September 24, 2000
CAG finds bogus units under PDS
September 23, 2000
Rice millers adopt tough posture
September 22, 2000