Monday, October 2, 2000,
Chandigarh, India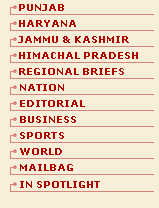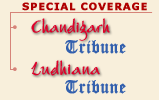 S P O T L I G H T
Railways tribute to Mahatma
NEW DELHI, Oct 1 (PTI) — In a tribute to the Father of the Nation on his birth anniversary, the National Rail Museum has put up a rare photo exhibition from September 30 to October 3 showcasing the Mahatma's association with the Railways from the days of the freedom struggle right up to his last journey when an Indian Railway carriage carried his ashes.
50 rebels killed
COLOMBO, Oct 1 (UNI) — At least 50 Tamil rebels and four soldiers were killed in a heavy fighting that followed an LTTE attack on security forces at Eluthumadduval in Jaffna last evening. An official release said troops repulsed the rebel attack which the LTTE launched at Eluthumadduval defence lines at 1730 hrs local time yesterday. More than 50 rebels, most of them in their teens, and four soldiers were killed in the two-hour fighting, it said.
Curfew imposed
AHMEDABAD, Oct 1 (PTI) — Three persons were stabbed to death and five injured as supporters of the BJP and Congress clashed last night over the panchayat poll outcome at a village in Anand district in Gujarat, forcing the authorities to impose an indefinite curfew there this morning. The Police fired two rounds to scare away the warring groups which indulged in the assaults and arson at Sojitra village, police said.
Dominican PM dead
ROSEAU, Oct 1 (AP) — Prime Minister Roosevelt Douglas (58) of Dominica died unexpectdly at his home this morning, the government said, a day after he returned from a summit of Caribbean leaders in Jamaica. Douglas, a former Marxist, was elected in January promising to clean up corruption and diversify the sluggish economy of this Caribbean country of 66,000 persons.
42 killed
ISLAMABAD, Oct 1 (AFP) — At least 42 persons were killed and 15 others injured when the roof of a house collapsed during wedding ceremony in the eastern Afghan town of Khogiani, the Afghan Islamic Press (AIP) reported today.