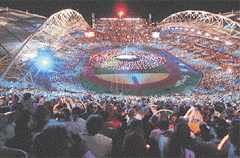 More than 1,00,000 persons wave lights during the closing ceremony of the Sydney Olympic Games on Sunday.
— AFP photo


Games end amidst fun 'n' frolic
(Sports page)

THE TRIBUNE MAGAZINES
On Mondays


On Sundays

On Saturdays


Paswan launches BSNL
Workers warn of "unviable tasks"
NEW DELHI, Oct 1 — Communications Minister Ram Bilas Paswan today launched Bharat Sanchar Nigam Limited (BSNL), the corporatised and recently merged entity of the Department of Telecom Operations (DTO) and the Department of Telecom Services (DTS).
3 killed as bus falls into khud
SOLAN, Oct 1 — Three persons were killed and about 25 injured when a Haryana Roadways bus rolled into a khud near Jabli, about 20 km from here today afternoon. Three of the injured, who are said to be in a critical condition, were shifted to the PGI in Chandigarh.
Border farmers badly hit by hike
RAJO KE (Ferozepore), Oct 1 — The Central Government's decision to increase the rate of diesel by Rs 2.60 per litre has severely hit farmers, who have land close to the Indo-Pak border near here.
EARLIER STORIES
(links open in a new window)
PM expands ministry
October 1, 2000
Rao, Buta convicted in JMM bribery case
September 30, 2000
Putin's Pak visit raises eyebrows
September 29, 2000
Inter-state ban on sale of petro products goes
September 28, 2000
19 militants killed in encounters
September 27, 2000
17 rockets fired in Rajouri
September 26, 2000
States asked to share oil price burden
September 25, 2000
States asked to share oil price burden
September 25, 2000
Oil price hike in next 48 hours
September 24, 2000
All set for oil price hike
September 23, 2000