Tuesday, October 3, 2000,
Chandigarh, India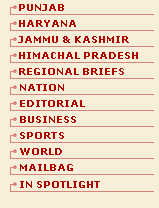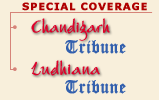 H A R Y A N A
Governor, Chautala sign UN manifesto
CHANDIGARH, Oct 2 — The Haryana Governor, Babu Parmanand, the Chief Justice of the Punjab and Haryana High Court, Mr A.B. Saharya, the Haryana Chief Minister, Mr Om Prakash Chautala and the Deputy Speaker of Haryana Vidhan Sabha, Mr Gopi Chand Gahlot, today signed a Culture and Peace manifesto proclaimed by the UN General Assembly.
Husband arrested for demanding dowry
FATEHABAD, Oct 2 — The police arrested Sirsa-based advocate Ranbir Singh, his father Jagir Singh, his mother Jagir Kaur, and his sister Amanjeet Kaur, at Rattia in the district under Sections 498-A and 406 of the IPC.
Rural phone service poor
HISAR: Despite the installation of modern exchanges, rural areas continue to have a poor telephone service.There are about 150 electronic telephone exchanges in villages in Hisar Telecom District, which comprises Hisar, Sirsa and Fatehabad districts.
Beau gets beloved's husband kidnapped
YAMUNANAGAR, Oct 2 — A lover allegedly got kidnapped the husband of his beloved.Mr K.K. Sindhu, Senior Superintendent of Police, Yamunanagar, informed here today in a press note that the police had arrested five kidnappers yesterday.A few persons approached taxi driver Surinder Singh of Sawanpuri Jagadhri on September 17 to hire his taxi to go to Saharanpur. He took all of them in his car.
Water scheme for villages launched
KARNAL, Oct 2 — Mr Vishnu Bhagwan, Chief Secretary, Haryana, today laid the foundation stone of a drinking water supply augmentation scheme for Bazida Jattan and Bhusli villages in Karnal district to mark the Gandhi Jayanti.
'Rename GT Road as Mahatma Gandhi Marg'
AMBALA, Oct 2 — Citizens Council, Ambala Cantonment, has demanded that the Prime Minister, Mr Atal Behari Vajpayee, should rename the Grand Trunk Road (GT Road) as Mahatma Gandhi Marg. Rich tributes were paid to the father of the nation, Mahatma Gandhi, here today.
Staff hand in prisoner's escape?
October 2, 2000
Jail break leaves cops red-faced
October 1, 2000
Upper age limit for HCS (Executive) up
September 30, 2000
7 aspiring crorepatis held
September 29, 2000
Public service byelaws put into
cold storage
September 28, 2000
Task force mooted to check interstate crime
September 27, 2000
Fatehabad MC chief in soup
September 26, 2000
Staff resent govt move on khadi board offices
September 25, 2000
Sonepat prepares for Tau's birthday
September 24, 2000
CAG finds bogus units under PDS
September 23, 2000
Rice millers adopt tough posture
September 22, 2000