Monday, October 9, 2000,
Chandigarh, India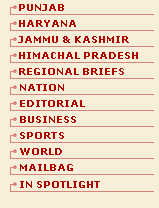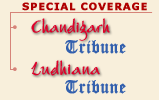 S P O T L I G H T
42 feared dead in bus mishap
KATHMANDU, Oct 8 (AFP) — A passenger bus has plunged into a torrential river in Nepal and been swept away along with 42 of its passengers, the police said today. The bus, heading from Sanfebagar to Dhangadhi in eastern Nepal, crashed through a safety rail on a bridge at Pipal Bazar and fell 45 m into the flooded Seti river at midnight yesterday. The passengers included 50 men, women and children.
Curfew in Mau
LUCKNOW, Oct 8 (UNI) — Curfew was clamped in Mau town as violence erupted when a boy was injured in an explosion in a truck being readied to carry Durga idols for immersion today, the police said. Varanasi zone Inspector-General of Police Harbhajan Singh said on the phone that the order was passed to stem the stray violence.
Syrian plane
BAGHDAD, Oct 8 (AFP) — A Syrian plane landed in the Iraqi capital today for the first time in 20 years as part of a campaign of solidarity flights against a decade-old UN air embargo, official news agency INA reported.