Monday, October 9, 2000,
Chandigarh, India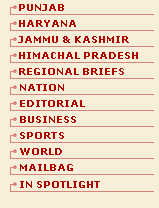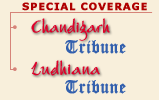 P U N J A B
Cong plans offensive on paddy issue
FARIDKOT, Oct 8 — The Punjab Pradesh Congress Committee will launch dharnas at each district headquarter on October 14 to pressure the state and Central governments to break the impasse in paddy purchases immediately.
Make Dhindsa 'food minister'
LUDHIANA, Oct 8 — Former Union Food Minister Surjit Singh Barnala today condemned the slow pace of paddy procurement in the state demanded that the post of Union Food Minister should be given to Punjab, the highest paddy producing state.
Remand of accused extended
Harpreet case
PATIALA, Oct 8 — Duty Magistrate S.K. Arora today extended the police remand of the four accused in the Harpreet death case to October 10 besides ordering their medical examination when they were produced in the district court here by a team of the CBI.
Register case against Badal: MP
BATHINDA, Oct 8 — Mr Bhan Singh Bhora, MP, today urged the authorities concerned to make arrangements for the registration of a criminal case by the CBI against the Punjab Chief Minister, Mr Parkash Singh Badal, for allegedly destroying evidence in connection with the death of Harpreet Kaur, daughter of the SGPC president, Bibi Jagir Kaur.
Arhtiyas directed to give receipts to farmers
October 8, 2000
FCI chief's remark creates panic
October 7, 2000
Crucial SGPC meeting put off
October 6, 2000
Badal rules out mid-term poll
October 5, 2000
SHSAD looks for new rebels
October 4, 2000
Paddy growers yet to get payment
October 3, 2000
Poor 'corrupt' food inspectors
October 2, 2000
Employee of DC's office booked
October 1, 2000
BKU blocks rail, road traffic
September 30, 2000