THE TRIBUNE MAGAZINES
On Mondays


On Sundays

On Saturdays










A week-old white-tiger cub greets Tribune lensman Karam Singh at the Chhat Bir Zoo on Wednesday.
BJP candidate elected Mayor
Councillors turn abusive, break furniture
AMRITSAR, Oct 18 — Democratic norms were thrown to winds when Mr Brij Mohan Kapur, a joint candidate of the BJP-SAD, was declared elected amid pandemonium and a dharna inside the venue of the crucial election for Mayor of the municipal corporation here today.
IN PASSING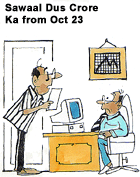 Sir, I want two-weeks study leave. I am preparing for "Sawaal dus crore ka" !

by Sandeep Joshi

Narmada dam gets SC's nod
NEW DELHI, Oct 18 — In a major setback to the anti-dam movement, the Supreme Court today gave a green signal for the construction of the controversial Sardar Sarovar Dam on the Narmada river up to a height of 138 metres as per a tribunal award, but made it clear that further construction was subject to clearance from the environmental and rehabilitation authorities.
Rathore case: CBI final report any time
CHANDIGARH, Oct 18 — The Central Bureau of Investigation is set to file the final report (challan) in the Ruchika molestation case (popularly known as the Rathore case) "any time, any day", say informed sources.
EARLIER STORIES
(links open in a new window)
Israel, Palestine agree to end violence
October 18, 2000
5 Pak soldiers shot, attack repulsed
October 17, 2000
350-cr relief for Punjab
October 16, 2000
RSS attacks BJP on Ayodhya
October 15, 2000
Several trains cancelled
October 14, 2000
Rao, Buta get 3 years' RI
October 13, 2000
Paddy: Centre softens stand
October 12, 2000
RBI policy to boost markets
October 11, 2000
Jaya gets 3-year RI in Tansi case
October 10, 2000
Uma raises banner of revolt
October 9, 2000