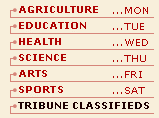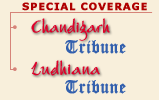 Punjab hikes bus fares
1,053 schools to be upgraded
CHANDIGARH, Oct 19 — The Punjab Government today jacked up bus fares in the state. According to information available at the official level, the bus fares have been increased by 2 paise per km. Earlier, the fare was 39 paise per km and this has been enhanced to 41 paise.

Cong, CPI, CPM workers lathi-charged
Protest against Mayor's election
AMRITSAR, Oct 19 — Seventeen Congress, CPI and CPM workers, including PPCC General Secretary Dr Raj Kumar, sustained injuries in a police lathi charge here today, even as Mr Amarinder Singh, PPCC chief, and Mr R.L. Bhatia, Congress member of Parliament, met Mr M.S. Gill, Chief Election Commissioner, against the election of the BJP candidate as Mayor by "default" in New Delhi today.

Suicide bomber killed, 24 hurt
COLOMBO, Oct 19 — Sri Lankan President Chandrika Kumaratunga today administered the oath of office to a 44-member council of ministers amid tight security after an LTTE attack in central Colombo that killed the suicide bomber and injured 24 others.