Saturday, October 21, 2000,
Chandigarh, India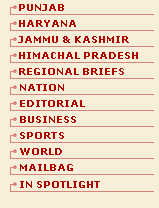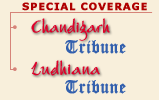 S P O T L I G H T
Kesri serious
NEW DELHI, Oct 20 (UNI) — Former Congress President Sitaram Kesri continued to be in a serious condition with pulmonary embolism and severe chest infection in the intensive care unit of the AIIMS here today. A spokesman for the AIIMS said Mr Kesri required high doses of oxygen as he was suffering from frequent attacks of broncho spasms. He was also suffering from ''moderately severe chest infection'' which was being treated with antibiotics.
New Defence Secy
NEW DELHI, Oct 20 (UNI) — Mr Yogendra Narain, a 1965 batch IAS officer, took over as Defence Secretary today. Mr Narain, who succeeds Mr T.R. Prasad, was earlier Chief Secretary to the UP Government.
China's denial
BEIJING, Oct 20 (PTI) — China today strongly refuted a report that it stole US ballistic missile technology, including the W-88, the most modern nuclear weapon in the US arsenal. "The report is absolutely fabricated," Chinese Foreign Ministry spokesman Zhu Bangzao said. "It is not worth commenting," he said when asked to comment on a report in the Washington Post yesterday.
5 labourers run over by train
THANE, Oct 20 (UNI) — Early morning fog claimed the lives of five labourers, who were run over by a train between Khardi and Atgaon stations. Five others sustained injuries. Villagers were walking along the fog-covered tracks to their place of work at around 7.30 a.m., when the train hit them. Of the five injured, the condition of some was critical. The train was going from Kasara to Chhatrapati Shivaji Terminus in South Mumbai.
5 killed
GUWAHATI, Oct 20 (PTI) — Five persons, including four Army personnel, were killed and 10 injured when a JCO stated to be of unsound mind went berserk and snatched the weapon from his guards and started firing indiscriminately in the railway station here tonight, the police said.