Saturday, October 21, 2000,
Chandigarh, India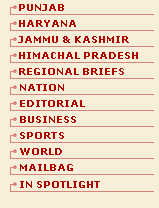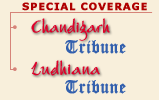 H A R Y A N A
Paddy: Haryana awaits report
CHANDIGARH, Oct 20 — The Haryana Government is eagerly awaiting the report of the Central team which visited mandis in the state on Wednesday and Thursday in connection with the state government's demand for a Punjab-type package for Haryana farmers.
Drought-hit areas will get water: CM
CHANDIGARH, Oct 20 — The Haryana Chief Minister, Mr Om Prakash Chautala, stated here today that instructions had been issued to the power and irrigation departments to ensure adequate supply of power and water to the drought-hit southern Haryana from November 1.
MUL workers hold condolence meeting
GURGAON, Oct 20 — Workers of Maruti Udyog Ltd (MUL) today organised a condolence meeting to mourn the death of a workman and an apprentice. While the worker had died on the factory premises in harness, the apprentice died in mysterious circumstances and his body was found in a nullah near the local railway crossing.
Proper use of funds must: Governor
FARIDABAD, Oct 20 — The Haryana Governor, Babu Parmanand, has called for proper utilisation of donations so that the basic aim of service to masses was not defeated.
Six unnatural deaths reported
FARIDABAD, Oct 20 — At least six persons have died and two others were injured in various incidents in the district in past 24 hours. The deceased include a student from Himachal Pradesh (HP) who reportedly fell from a train.
'Row over attending Tau's birthday unfortunate'
SONEPAT, Oct 20 — Mr Chiranji Lal Sharma, former MP and veteran Congress leader, today described the controversy raised by some Congress leaders particularly former Chief Minister Bhajan Lal on his participation in birthday celebrations of former Deputy Prime Minister and the Indian National Lok Dal leader Devi Lal as "unfortunate" and said he had neither indulged in indiscipline nor betrayed the party.
Miners rule protected forest area
October 20, 2000
MUL complex political battleground
October 19, 2000
Dalal blames Chautala for inaction
October 18, 2000
Plan for elderly criticised
October 17, 2000
Official suspended for delaying action
October 16, 2000
Canal money leaks into staff pockets
October 15, 2000
Encroachment drive in full swing
October 14, 2000
Cong leader for FCI chief's removal
October 13, 2000
Haryana Govt denies distress sale of paddy
October 12, 2000
Govt shielding jail official?
October 11, 2000
Discrimination alleged in demolition drive
October 10, 2000