Wednesday, October 11, 2000,
Chandigarh, India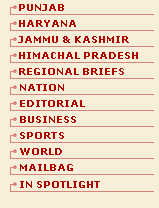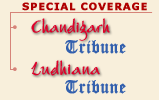 H A R Y A N A
Govt shielding jail official?
GURGAON, Oct 10 — Are some senior bureaucrats in the Ministry of Home in Haryana trying to shield the Deputy Superintendent of the local district jail, Mr Suriti Lal, who had been arrested and booked for colluding with the jail inmates for extorting money from outsiders? The government has been reportedly dragging its feet for more than a year in giving the go ahead for his prosecution.
FCI stays away from Pehowa mandi
PEHOWA, Oct 10 — The Food Corporation of India did not enter the Pehowa grain market today to make purchase as a protest against the assault by farmers on two employees of the FCI last evening. Activists of the FCI Union reached Pehowa to register their protest against yesterday's incident and conveyed to the authorities that the FCI officials would not make any paddy purchases from Pehowa market till the "guilty" in the incident were punished.
Millers ready to receive paddy
FATEHABAD, Oct 10 — After a lot of haggling by all parties, a meeting of government procurement agencies, millers, farmers and arhtiyas held here last evening to remove bottlenecks in the paddy procurement in the district ended on a positive note with the millers, who were earlier adopting a tough stance, agreeing to start paddy milling.
Oppn criticises CM's foreign trip
CHANDIGARH, Oct 10 — The Haryana Chief Minister, Mr Om Prakash Chautala, today came under attack from the Opposition for undertaking a foreign visit at a time when paddy growers in the state are getting a raw deal.
Quacks face bleak future
ROHTAK, Oct 10 — A large number of quacks who claims to be registered in Bihar and other states are likely to fall on hard days as the drug control authorities are getting tough.
Sirsa's date with e-governance
SIRSA, Oct 10 — Following in the footsteps of the Andhra Pradesh Government the Haryana Government has also initiated a process of turning its districts 'high- tech'. This novel project is likely to be inaugurated on Haryana Day from the native district of Chief Minister, Mr O.P. Chautala.
Discrimination alleged in demolition drive
October 10, 2000
PM keen to solve SYL issue
October 9, 2000
Farmers sore over delay in procurement
October 8, 2000
Arhtiya-miller-official nexus draws flak
October 7, 2000
INLD 'sidelining' honest officers
October 6, 2000
Farmers face bleak future
October 5, 2000
Encroachments to be cleared: CM
October 4, 2000
Governor, Chautala sign UN manifesto
October 3, 2000
Staff hand in prisoner's escape?
October 2, 2000
Jail break leaves cops red-faced
October 1, 2000
Upper age limit for HCS (Executive) up
September 30, 2000
7 aspiring crorepatis held
September 29, 2000