Wednesday, October 11, 2000,
Chandigarh, India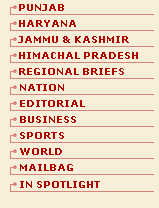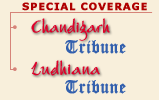 Police closes in on Satyam Info
Hosting of porn site freevotes.com
LUDHIANA, Oct 10 — One of the major players in the Indian IT world, Satyam Infoways, finds itself embroiled in the controversy over a local netizen creating a website, www.freevotes.com, that cast aspersions over the lifestyles of the wards of some top guns in the megacity.
Amarinder confident of retaining PCC presidentship
JAGRAON, Oct 10 — Notwithstanding the defeat in the Sunam assembly byelection, the Pradesh Congress Committee President, Capt Amarinder Singh, appears to be confident about retaining his job in the organisational elections scheduled for next month.
Re-appear students seek grace marks
LUDHIANA, Oct 10 — Resentment prevails among MA first year students of Panjab University who appeared for partial re-appear of the examination this year.
Kidnapping turns out to be elopement
LUDHIANA, Oct 10 — That love is all powerful and can force one to revolt against one's family is evident in the case of elopement of two adults.
'Shopping mall culture alien to India'
LUDHIANA, Oct 10 — The Indian consumer market may have expanded rapidly in recent years but it is still quite far off from the "shopping mall culture" which pervades the West as also some of the countries of the East and West Asia.



Mr S.K. Sandhu, Deputy Commissioner, and SAD leader Jagdev Singh Talwandi visit the mandis in Raikot area in Ludhiana district to supervise the paddy procurement on Tuesday.
— Photo by Inderjit Verma
DC warns staff of procurement agencies
LUDHIANA, Oct 10 — With a view to speeding up the procurement and lifting of paddy in the mandis Mr Jagdev Singh Talwandi, senior vice-president and chairman of Disciplinary Action Committee of SAD.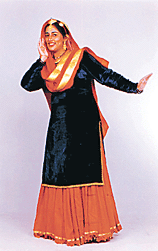 Special team arrives to probe dengue
October 10, 2000
City investors taken for a ride
October 9, 2000
Gaiety, fervour mark Dasehra celebrations
October 8, 2000
Dengue spreads while MC, Health Dept sleep
October 7, 2000
Crackdown on units stealing power
October 6, 2000
Star TV channels go off air
October 5, 2000
PAU staff allege improper PF account maintenance
October 4, 2000
Mela mafia active under police protection
October 3, 2000
Providential escape for 1,000 guests as marriage palace catches fire
October 2, 2000
From a countryside girl to Mayor
October 1, 2000
Panic withdrawal of GPF by telecom employees
September 30, 2000