Wednesday, October 11, 2000,
Chandigarh, India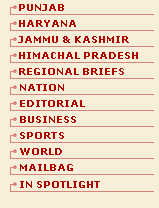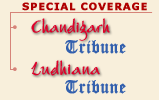 S P O T L I G H T
Nobel Prizes for Physics, Chemistry
STOCKHOLM, Oct 10 (AP) — Zhores I Alferov of Russia, Herbert Kroemer, a German-born American and Jack Kilby of Texas today won the Nobel Prize for Physics for "basic work on information and communication technology" Alan Heeger, Alan MacDiarmid and Hideki Shirakawa won the Nobel Prize in Chemistry, the Royal Swedish Academy of Sciences said today. They share the prize worth nearly $ 1 million for developing polymer plastics that conduct electricity.
15 cops hurt
CALCUTTA, Oct 10 (PTI) — At least 15 policemen were injured in brickbatting by rival groups of CPM and Trinamool Congress activists when they tried to disperse the clashing groups at Bagmari in the northern part of the city today. The police fired five rounds of teargas shells to break apart the rival party supporters, police sources said.
2 killed in clash
MIDNAPORE, Oct 10 (PTI) — Two persons, a worker each of the CPM and of the Trinamool Congress, were killed and seven seriously injured in a clash between supporters of the two parties at different places in Midnapore district today.