Wednesday, October 25, 2000,
Chandigarh, India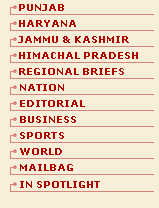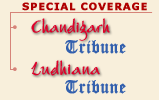 H A R Y A N A
Panchayats get more fiscal powers
FARIDABAD, Oct 24 — The Chief Minister Mr Om Prakash Chautala, today announced an increase in financial powers of panchayats and a comprehensive plan for the all-round development of the rural areas in the state.
Internet dhaba inaugurated
NARNAUL, Oct 24 — Mr N.K. Mangla, Chief General Manager, Bharat Sanchar Nigam Limited, launched his campaign to cover all development blocks with Internet dhabas with the first Internet dhaba franchise in Haryana being inaugurated at Kanina in Mahendragarh district today.
Kids vow to boycott crackers
KARNAL, Oct 24 — Students here today adopted a unique method to protest against the rising cracker menace during Divali. Students belonging to Hindu Siksha Samiti, schools took out a procession which culminated at the District Education Officer's office in protest against the menace of crackers.
Probe sought into canal water supply
SONEPAT, Oct 24 — Residents of several villages in Gohana subdivision of the district today urged the Chief Minister, Mr Om Parkash Chautala, to order a high-level probe into the complaints of the farmers relating to inadequate and erratic supply of canal water during the rotation period and the unavailability of the canal water at their tail-end fields.
Poll roll revision from Nov 2
KAITHAL, Oct 24 — As per the directions of the Election Commission, summary revision of electoral rolls in Kaithal, Pundri, Guhla, Pai and Kalayat assembly segments would be undertaken from November 2 to November 30.
Recruitments leave politicians sulking
October 24, 2000
College staff flay autonomy move
October 23, 2000
Demonstration by MUL employees
October 22, 2000
Paddy: Haryana awaits report
October 21, 2000
Miners rule protected forest area
October 20, 2000
MUL complex political battleground
October 19, 2000
Dalal blames Chautala for inaction
October 18, 2000
Plan for elderly criticised
October 17, 2000
Official suspended for delaying action
October 16, 2000
Canal money leaks into staff pockets
October 15, 2000