Sunday, October 29, 2000,
Chandigarh, India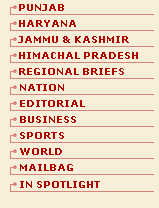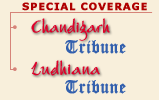 N A T I O N
Crucial BJP meeting on Oct 31
Barnala likely to be Uttarakhand Governor
NEW DELHI, OCT 28 — The central leadership of the BJP has summoned its MPs and MLAs belonging to Uttarakhand for a meeting on October 31 to decide who is best suited to assume the mantle of Chief Minister of the new hill state to be carved out of Uttar Pradesh.
No front within NDA: Naidu
NEW DELHI, Oct 28 — There is no proposal to form a front of non-BJP parties within the National Democratic Alliance, the Andhra Pradesh Chief Minister and Telugu Desam Party leader, Mr Chandrababu Naidu, said here today.
No rift with TDP: Laxman
HYDERABAD, Oct 28 — The BJP today discounted reports of its differences with its crucial ally, TDP in Andhra Pradesh but asserted that it has every right to express its views on issues concerning the development of the state.
'Basu's decision a blow to Third Front'
NEW DELHI, Oct 28 — The BJP today said it was a foregone conclusion that West Bengal Chief Minister Jyoti Basu, because of his age and failing health, would not be able to perform his duties as Chief Minister much longer.
CM's post: JMM team meets PM, George
NEW DELHI, Oct 28 — A Jharkhand Mukti Morcha (JMM) delegation today called on Prime Minister Atal Behari Vajpayee in the backdrop of the party's persistent demand for Chief Ministership of the new state.
Petroleum dealers' commission hiked
October 28, 2000
SC upholds judicial review
October 26, 2000
HC admits Rao's plea, notice to CBI
October 25, 2000
Sardinha faces no-trust vote today
October 24, 2000
IAF loses Rs 866 cr in crashes
October 23, 2000
Disgruntled comrades to join hands
October 22, 2000
BJP dithering on CM's choice
October 21, 2000
Make Chhattisgarh on 'Nov 1'
October 20, 2000
HC admits Buta's plea
October 19, 2000
India, UK to cement ties
October 18, 2000
Buta to file appeal in HC today
October 17, 2000