Sunday, October 29, 2000,
Chandigarh, India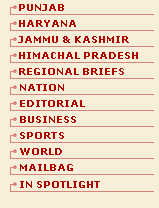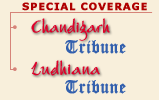 S P O T L I G H T
BNLF proposes tripartite talks
AGARTALA, Oct 28 (PTI) — The Bru National Liberation Front (BNLF) today suggested tri-partite peace talks to end three-year-old insurgency in Mizoram. "The BNLF is a peace loving organisation and if the Mizoram Government has love for peace, it should create an atmosphere for talks by declaring a ceasefire," the organising secretary of the BNLF, Mr S. Bru, said in a statement here.
CPM member killed
SILIGURI, Oct 28 (PTI) — CPI (M) zonal committee member and advocate Dipankar Ghose was shot dead by two unidentified persons at Goaltuli, about 30 km from here, this afternoon.
Ransacked
THIRUVANANTHAPURAM, Oct 28 (UNI) — Youth Congress activists took out a procession and ransacked an excise range office near the state Capital today, a day after two persons died and 27 were hospitalised in a hooch case at Pallippuram near here. The irate party supporters, led by Youth Congress district president M.A. Latheef, threw stones and country-bombs at the office at the conclusion of their march to the excise range office at Kazhakkoottam.
Mountaineer killed
KATHMANDU, Oct 28 (AFP) — The leader of a Nepal-Slovenia mountaineering expedition, Andrej Zaman, was killed in a 700-metre fall on Dorje Lhakpa peak in the central Himalayas, officials said today. "Zaman slipped at 6,500-metre altitude while trying to scale the 6,966-metre-high Mount Dorje Lhakapa peak in the central Himalayas," the Tourism Ministry said in an announcement.
Raids conducted
KENDRAPARA, Oct 28 (PTI) — The state crime branch today conducted raids on the residential premises of some prominent followers of expelled BJD leader and president of the newly floated Orissa Gana Parishad (OGP) in Kendrapara district. According to Additional Director General of Police (Crime Branch) Janardan Singh, five teams of senior Crime Branch officials conducted simultaneous raids in many places here and nearby Patkura.