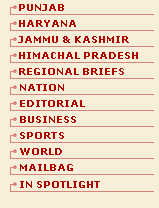 Monday, October 30, 2000, Chandigarh, India
Updated at 3 am (IST)

Jitendra dares Sonia Gandhi
Scuffles after filing of papers
NEW DELHI, Oct 29—The former UPCC chief, Mr Jitendra Prasada, today filed his nomination papers for the post of Congress President to face the present incumbent, Mrs Sonia Gandhi, which is perhaps the first challenge to the Nehru-Gandhi family for the party's top post.


Congress leader Jitendra Prasada shows the victory sign after filing his nomination papers at the AICC HQ in New Delhi on Sunday. (Right) Supporters of Mrs Sonia Gandhi and Mr Jitendra Prasada grapple with one another in front of the Congress HQ in New Delhi on Sunday.
— PTI and Reuters photo
CAST YOUR VOTE
Do you think Kanishka crash suspects will be convicted?