IN PASSING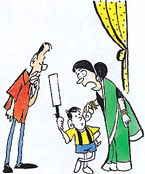 Look! TV is influencing him. He has started playing dirty games.

Governor invites Buddhadev
CALCUTTA, Nov 1 — West Bengal Governor Viren J Shah today invited Deputy Chief Minister Buddhadev Bhattcharya to form the government following the resignation of the Chief Minister, Mr Jyoti Basu, on health grounds.
Paddy: Haryana demand accepted
CHANDIGARH, Nov 1 — The Centre has accepted the demand of the Haryana Government to implement the relief package for paddy growers of the state with effect from September 21, as has been done in the case of Punjab.
AI bombing accused was 'not escaping'
VANCOUVER, Nov 1 —Ripudaman Singh Malik, one of the Sikhs accused of murdering 329 persons in the 1985 bombing of Air- India Flight 182, was preparing to travel to Pakistan when he was arrested, according to his lawyer.
MUL adopts tough posture
GURGAON, Nov 1 — Encouraged by the apparent division in workers of the Maruti Udyog Ltd (MUL) on the issue of continuing their agitation, the management today said that there was no proposal for an "amnesty scheme" for those who would return to work.
EARLIER STORIES
(links open in a new window)
CBI names nine foreign cricketers
November 1, 2000
CBI names Jadeja, Azharuddin, Prabhakar
October 31, 2000
Jitendra Prasada dares
Sonia Gandhi
October 30, 2000
12 Pak soldiers killed,
20 injured
October 29, 2000
Jyoti Basu to quit on Nov 7
October 28, 2000
Rajnath invited to form govt
October 26, 2000
Rajnath to replace Gupta as
Uttar Pradesh CM
October 25, 2000
ULFA militants massacre 15
October 24, 2000
Advani rules out talks on J&K
October 23, 2000
2 BSF jawans die as IED explodes
October 22, 2000