IN PASSING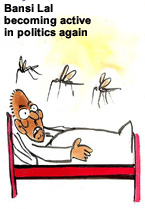 India, USA discuss UN peacekeeping
NEW DELHI, Nov 2 — Enlarging areas of bilateral cooperation, India and the USA today agreed to explore ways for stepping up the role of troop-contributing countries in the United Nations for preparing the mandates and operations of peacekeeping forces.
HC asks EC to inform on candidates' past
NEW DELHI, Nov 2 — In a significant decision to curb criminalisation of politics, the Delhi High Court today ruled that the Election Commission must gather information on criminality of all contesting candidates and make it available to public so that voters could make informed decisions.
Mittal to meet Shanta
Shifting of rice to deficit states
CHANDIGARH, Nov 2 — As another crisis looms over Punjab pertaining to paddy and rice, the state government will again knock at the door of the Union Minister for Consumer Affairs, Food and Public Distribution, Mr Shanta Kumar.
Ordinance on selection panel soon
KARNAL, Nov 2 — The Haryana Government is likely to soon issue an ordinance to constitute the universities and colleges selection commission. According to sources, the draft of the proposed ordinance is almost ready.
EARLIER STORIES
(links open in a new window)
Azhar, Ajay Sharma may be prosecuted
November 2, 2000
CBI names nine foreign cricketers
November 1, 2000
CBI names Jadeja, Azharuddin, Prabhakar
October 31, 2000
Jitendra Prasada dares
Sonia Gandhi
October 30, 2000
12 Pak soldiers killed,
20 injured
October 29, 2000
Jyoti Basu to quit on Nov 7
October 28, 2000
Rajnath invited to form govt
October 26, 2000
Rajnath to replace Gupta as
Uttar Pradesh CM
October 25, 2000
ULFA militants massacre 15
October 24, 2000
Advani rules out talks on J&K
October 23, 2000