Saturday, November 4, 2000,
Chandigarh, India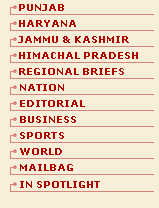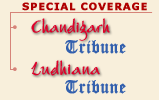 L U D H I A N A
No clue to Nandpur robbery
LUDHIANA, Nov 3 — Even as the police remains clueless about the series of armed robberies in the region, the robbers continue to strike.
Re-registration of doctors in the offing
LUDHIANA, Nov 3 — Doctors across the country will soon need to get themselves re-registered after every five years.
All medical colleges must have blood banks: MCI
LUDHIANA, Nov 3 — The Medical Council of India (MCI) has made it mandatory for all medical colleges in the country to establish a blood bank with all required facilities.
Auction of centre stayed
LUDHIANA, Nov 3 — The auction of commercial sites on the land reserved for a community centre in the posh Model Town Extension locality in the city, conducted by Ludhiana improvement trust here today, has run into trouble, following a stay order granted by the court of Mr A.K.Mehta, additional civil judge (senior division), on the application filed by Mr J.S.Chugh, advocate.
Record proves costly for Telecom Department
LUDHIANA, Nov 3 — The fortnightly telephone-meter-reading record proved to be costly for the local division of the Telecom Circle. On the basis of this record, the District Consumer Disputes Redressal Forum figured out that the claims of the department regarding a complaint filed by an advocate were wrong.
Armed robbers strike again in periphery; kill two of family
November 3, 2000
'84 riot victims lament unfulfilled promises
November 2, 2000
Suicide or triple murder?
November 1, 2000
Omar Abullah's visit fails to enthuse exporters
October 31, 2000
Dalit's death chance for all to settle scores
October 30, 2000
Health, education need of hour: Advani
October 29, 2000
One bomb was defused by cops, says passenger
October 28, 2000
Racket in sale of women unearthed
October 26, 2000
Dalit youth's death due to police torture alleged
October 25, 2000
PAU team flouts rules
October 24, 2000
PAU campus school Principal shifted
October 23, 2000