Saturday, November 4, 2000,
Chandigarh, India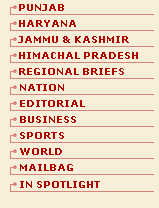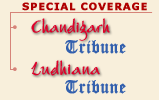 S P O T L I G H T
Mishap averted on Delhi-Ambala route
MUZAFFARNAGAR, Nov 3 (PTI) — A major rail mishap was averted on the Delhi-Ambala route Thursday with the timely detection of the removal of fish plates by alert patrolmen, Northern Railway sources said on Friday. The railway team found 65 clips of fish plates removed between Rohana and Bamanheri railway stations, 5 km from here, the said. The tracks were restored immediately.
Typhoon kills 26
MANILA, Nov 3 (AP) — At least 26 persons were killed and seven others missing after typhoon Bebinca hit Manila and northern Philippines at dawn today, toppling trees, cutting the power supply, triggering landslides and flooding many areas, officials and radio reports said. Schools, government offices, many shops and banks were closed due to the typhoon.

Prithvi Theatre festival from Nov 15
MUMBAI, Nov 3 (UNI) — A 21-day International Prithvi Theatre Festival 2000 will be organised here from November 15. Based on the theme of 'Setting the Stage', the festival will see seven theatre groups from the USA, UK, Northern Ireland, Italy, South Africa and India captivate Mumbai theatre-lovers with their performances. Workshop for actors, lecture demonstrations and discussions in open forums will be held in Mumbai and Pune.