IN PASSING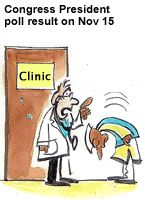 I know your problem. You were out to save democracy for the past two weeks!

New initiative on Kashmir likely
NEW DELHI, Nov 13 — A new initiative for talks for peace in the troubled state of Jammu and Kashmir could possibly be undertaken at the forthcoming wedding of the daughter of the Jammu and Kashmir Liberation Front Chairman, Mr Amanullah Khan, with the son of the Chairman of the Jammu and Kashmir Peoples Conference and senior leader of the All-Party Hurriyat Conference, Mr Abdul Ghani Lone, at Rawalpindi in Pakistan.
Highway blues-II
Reluctance in rushing victims to hospital
G.T. Road, Nov 13 — An accident victim on the 235-km stretch of road connecting Chandigarh with Kundli (Sonepat) on the Haryana-Delhi border has little chance of getting timely medical care. Even though at least three persons die every day on an average on this stretch, there is a lack of initiative in rushing victims to the nearest hospital.


Trees sold for a mere trifle
CHANDIGARH, Nov 13 — The Ambala Division of the Northern Railway identified nearly 50,000 trees to be felled during the current financial year, most of which have already been axed for a return of Rs 39 lakh so far. The division expects to generate a total revenue of Rs 70 lakh from trees alone this year, says the Divisional Regional Manager, Mr Vijay Kumar.
Militants clash with pilgrims
November 13, 2000
Tarar promises Sikhs facilities
November 12, 2000
Bush camp asks Gore to concede defeat
November 11, 2000
Bush has razor-thin lead
November 10, 2000
US presidential battle hangs in balance
November 9, 2000
Recount ordered
November 8, 2000
JMM snaps ties with NDA
November 7, 2000
4 soldiers killed in suicide attack
November 6, 2000
29 killed, 46 hurt in valley
November 5, 2000
J & K minister's brother
killed in blast
November 4, 2000
Cabinet clears DTH service
November 3, 2000