IN PASSING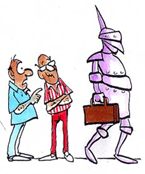 Who told you he is an Uttaranchal MLA ?

Bodies of crash victims retrieved
NEW DELHI, Nov 14 — After a day-long herculean effort, the bodies of all seven services personnel killed in the crash of a MI-8 helicopter near the Indo-Pak border in the Rann of Kutch were retreived today from deep marshes, even as five survivors were being treated in a military hospital.
Pak package for Sikh pilgrims
LAHORE (Pakistan), Nov 14 — Even as the SGPC has imposed a ban on jathas to Pakistan in protest against the formation of the Pakistan Gurdwara Prabandhak Committee, Gen Parvez Musharraf, Chief Executive, Government of Pakistan, has asked Sikh pilgrims to visit the gurdwaras in Pakistan "at will".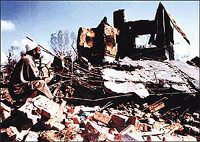 A resident of Batapora (Wathora) Budgham 20 km west of Srinagar on Tuesday looking at the debris of his house that was razed to ground in a four-day-long encounter between foreign militants and security forces early this month. — Photo by Amin War

Village wakes up to see all lost
BATAPORA (Wathora), Nov 14 — It was a horrifying experience for Khatji, an 80-year-old village woman, who had to be herded along with other women and children in one house at one end of the village. When security forces left the village after concluding the four-day operation against militants on November 5, Khatji saw her house reduced to a rubble.
CBI charges Jagir Kaur with daughter's killing
November 14, 2000
Militants clash with pilgrims
November 13, 2000
Tarar promises Sikhs facilities
November 12, 2000
Bush camp asks Gore to concede defeat
November 11, 2000
Bush has razor-thin lead
November 10, 2000
US presidential battle hangs in balance
November 9, 2000
Recount ordered
November 8, 2000
JMM snaps ties with NDA
November 7, 2000
4 soldiers killed in suicide attack
November 6, 2000
29 killed, 46 hurt in valley
November 5, 2000
J & K minister's brother
killed in blast
November 4, 2000