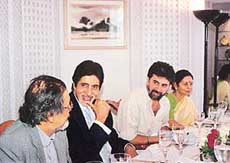 I know as little about dot-coms as I know about hoteleering or astro-physics. So I talked to Lady Nadira (Naipaul's Pakistan-born wife). She is almost a foot taller than me, young, animated and speaks a torrent of Punjabi. Her only interest in life is to guard her husband against human pests. Tejpal explained at some length how Tehelka was going from strength to strength and how he planned to take it to the top. In passing, he mentioned that he had opened an office in London. At the end of his monologue, Sir Vidia asked, "Why London?" Tejpal explained that the presence of a large number of Indians, Pakistanis and Bangladeshis in England made it a viable proposition. Amitabh elaborated on the theme. There is something very arresting about his rich bass voice. I did not understand what he was saying and admitted it was all Greek to me. He gave a gentle laugh and tried to make his explanation simpler. "If you want to check up a reference to an historical event, you get a book out of the shelf and read it. Then you want to read the work of some poet, you put back the history book and take out an anthology of poetry. With this dotcom you won't have to do all that. Just press a button and the information you need is right there before your eyes. That simple."
"Just makes you lazy!"
"Yes," he laughed, "more lazy".
I still did not understand him. I noticed that besides wearing a very elegant blue suit and a matching silk tie, he wore three rings on his hands: one on the right, two on the left, including one on the index finger. I had not noticed them before. I suspect he was persuaded to wear them by his mother Teji or his wife Jaya when he was taken seriously ill some years back. Anyhow most people in the acting profession are superstitious. I was itching to ask him his reason for wearing them as I am allergic towards men who wear rings on their fingers, ear-rings in their ears and necklaces round their necks. I kept my allergy under check.
The meeting over, we adjourned to the working hall where the Tehelka staff awaited us with a spread of goodies — tea, coffee and fizzy drinks. They clustered around Amitabh; he remains the heart-throb of the masses as well as the sophisticated like the Tehelka staff: chaprasis, chauffeurs, chaiwalas, awaited him at the entrance gate. Naipaul watched the scene with bemused eyes, taking everything in. Ihave little doubt we will read about this in his next travelogue. Unnoticed, I slipped out of the hall; who wants to remain unnoticed among celebrities?
Letter from Islamabad
My friend Mahboob Ghani changed his Muslim name to a distinct Hindu-Sikh name, Preetam Giani. He began his last book with an invocation to Goddess Saraswati and makes no secret of his being gay. How he survives in the increasingly Talibanised atmosphere of Pakistan is a minor miracle. Besides running an arts gallery and translating Ghalib's poetry, he gives private tuitions in English: he was educated in Cambridge University. In his last letter to me, he wrote of autumn in Islamabad and enclosed a translation of Ghalib's popular ghazal, Dil He To Hai Na Sang-o-Khisht, (It is only my heart not something made of stone or brick). His letter begins in lyrical prose:
However much I believe in being
'a man for all seasons',
And despite the pleasure of being nude at night
During the five-month-long sweltering summer,
It's one hell of a relief when, starting mid-September,
The weather cools and autumn creeps up, better thought of
As 'reverse-spring', more pleasing here than that which follows winter.
So it's been this year, and now the weather's just perfect:
Mornings are bright and sunny, evenings are caressingly cool.
I'm still in shorts in the daytime; and in bed at night,
Under a pure wool blanket, still in my birthday suit.
The translation of Ghalib's couplet follows:
Dil he to hai, na Sang-o-Khisht
Dard say bhar na aaiye kyon
Ro dengey ham hazaar baar
Koee hammein sataye kyon?
(My heart's not a brick or stone, why shouldn't it brim with pain? I'll weep a thousand times over — why should anyone torment me?)
I do not know why Preetam does not try to rhyme his lines. I am sure this reads better:
My heart is not made of brick or stone,
why should it not fill with pain?
Why should anyone pester me,
I will cry a thousand times again and again.
Hariyanvi ha ha!
Every region of our country has its own brand of humour, often encapsulated in proverbs and aphorisms. They are best told in the original dialect as they lose much of their rustic flavour in translation. This is well illustrated in the case of Hariyanvi which has a mix of Punjabi and Hindustani. It has some stock figures:an elder from one's own village is called a taoo, while one from outside is a chowdhary, a wife is joroo or lugaaee, son or a boy is a chhora, a girl chhoree; hai becomes sai.
Some years ago I received a book on Hariyanvi humour, by Rajbir Deswal of the Indian police. His son, Sawan Deswal, has gone a step further by setting up Hariyanvi.com, which covers different aspects of his home state: its history, culture, lifestyle, humour, proverbs etc. I give a few examples of humorous anecdotes culled from his collection.
A jackal saw a mouse running out of a jungle. He asked him what had transpired to make him run for his life. The mouse replied: "Sher ki bebe kise nai chher di aur shak meyrey pai ho rahya sai"(someone made a pass at the tiger's sister and the suspicion is cast on me).
An old man who happened to brush past a young girl said, "Sorry" to her. She gave him a tongue-lashing. Later a young man brushed past her and also said, "Sorry". The girl smiled but said nothing to him. The old man lost his cool and shouted"Ey chhoree, meyree 'sorry' ki spelling galat thee" (hey girl, was my sorry wrongly spelt)?
A Hariyanvi's wife went missing. The husband went to Lord Rama's temple to pray for her return. From the side-wall, Hanumanji beckoned him and said "Ureaajaa Molar, jab iski lugaaee kho gai thee to manney he tohi thee" (Foolish man come to me, when his wife was abducted, I helped him to recover her).
There is an apt saying, pertinent to our times: "Haanji kee naukari, naanji kaa ghar" (a job for one who says yes sir, one who says no sir stays at home).