Tuesday, November 28, 2000,
Chandigarh, India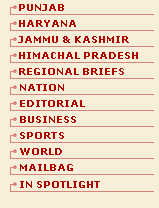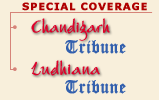 S P O R T S
Resolute batting by Zimbabwe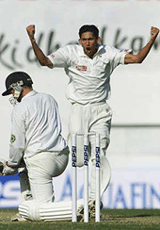 NAGPUR, Nov 27 — Waging a determined battle to save the second Test, Zimbabwe inched tantalisingly close to averting the follow on the third day against India here today.




Indian bowler Ajit Agarkar celebrates getting batsman Andy Flower out on the third day of the second Test between India and Zimbabwe in Nagpur on Monday. Zimbabwe were 359 for the loss of six wickets in response to India's first innings score of 609 for six declared. — Reuters photo

Match-fixing
Madhavan confirms CBI report
NEW DELHI, Nov 27 — The Board of Control for Cricket in India inquiry commissioner K. Madhavan, the former Central Bureau of Investigation joint-director, who was appointed by the BCCI to conduct an internal inquiry following the CBI report on match-fixing and related matters, has also submitted a report more or less in consonance with the CBI version.
Sachin toys with Zimbabwe attack
November 27, 2000
Das scores maiden Test ton
November 26, 2000
Zaheer to replace Kartik
November 25, 2000
Windies collapse against McGrath
November 24, 2000
Easy 7-wicket win for India
November 23, 2000
Zimbabwe struggling to save Test
November 22, 2000
Dravid, Sachin lead strong Indian reply
November 21, 2000
Zimbabwe tail frustrates India
November 20, 2000
Campbell props up Zimbabwe
November 19, 2000
Indian bowlers on test
November 18, 2000