Tuesday, November 28, 2000,
Chandigarh, India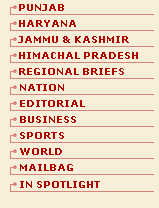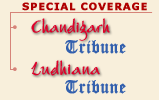 S P O T L I G H T
Pak Rangers not to fire on civilians
NEW DELHI, Nov 27 (UNI) — Pakistan Rangers have agreed not to fire on civilians on the Indian side of the border on the request of the Border Security Force. BSF Inspector General V.N. Rai told reporters here today that an understanding in this regard was reached during the four-day meeting between Pakistan Rangers and the BSF in Lahore last week.
26 hurt in Pak blasts
LAHORE, (Pakistan), Nov 27 (Reuters) — At least 26 persons were injured, some seriously, in three separate bomb blasts in Pakistan's province of Punjab today, the police said. They said two bombs went off in a busy bus station in provincial capital Lahore, including 12 persons, one seriously. Another bomb exploded in a crowded bazaar in Muridke town, about 35 km (20 miles) north of Lahore, injuring 14 persons.
Trial concludes
MUMBAI, Nov 27 (PTI) — The trial involving murderous attack on film producer Ramesh Sharma has concluded before a special court which is expected to deliver its verdict within a week after hearing arguments from both the sides. The designated judge A.P. Bhangale today recorded the statements of three accused.

Rupee at all-time low
MUMBAI, Nov 27 (PTI) — Steady month-end dollar demand drove the rupee to close at a new all-time low of Rs 46.8750/8800 per dollar in fairly active trade at the interbank foreign exchange (forex) market here today. Opening around Rs 43.83/85, the rupee gradually weakened to Rs 46.8750/8800 at the finish following steady spot-dollar purchases by banks resulting in a four paise decline from last Friday's closing levels of Rs 46.8350/8450.
11 miners killed
BEIJING, Nov 27 (AFP) — Eleven miners were killed and another 40 missing when a gas explosion ripped through an inner Mangolian coal mine in the northern Chinese autonomous region, state press reported today. The explosion occurred in the number two mine of the Daying Coal Mining Company on Saturday.